Good evening everyone,
With the festive season upon us, I fancied letting you all know about offers that are currently available for you to take advantage off however, I've found quite a few gift ideas when I've been looking so I've decided to mix these gift ideas with the various offers available. As there is quite a lot rather than overloading you all I've decided to break it down into stores.
I popped into Boots today and although I didn't actually purchase anything as I'm planning on buying my Christmas presents next week, I did notice that they did have some good offers on particularly on fragrances. The offer available on quite a few fragrances seems to be up to 50% off however, I'm not sure if this offer will be able for a while or whether it is part of there 4 day offer event.
The major offers I noticed on women's fragrance were
Lady Gaga Fame 50ml
which is on offer for £15.50 instead of £31 and
Pac
o
Rabanne Lady Million 50ml
£31 instead of £48.50. I feel that the offer on the Lady Gaga perfume is pretty good as it would actually would out cheaper to buy two 50ml bottles than it would to buy one 100ml bottle.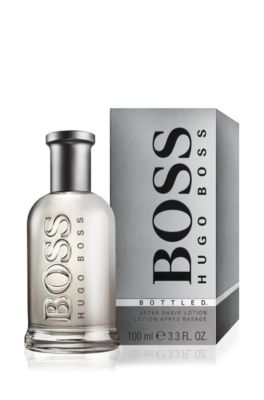 For men, I found that
Paco Rabanna 1 Million 100ml
was on offer for £35 instead of £54.50 and
Hugo Boss 50ml
is £26.66 instead of £39.99. Considering the R.R.P on these products I think its a particularly good deal.
As I said I'm not sure how long this offer is available for so if you are interested in buying your loved ones a fragrance this Christmas then you might want to pop into boots or order from that website at some point over the weekend. If you are a Boots Advantage Card holder you will obviously also earn points on these purchases or if you're lucky enough to have enough points available to spend, you can use them as payment towards any of these items. I am aware that there will be good fragrance deals around at this time of year especially with websites available such as Cheap Smells so if I do find any of these fragrances or any others cheaper then I will let you know.
The other good offer available at Boots at the minute is 3 for 2 on gifts. I'm sure you are all aware of this one as it's something Boots do every year and seems to be an on going offer all year round on
Soap & Glory
but I have picked out a few things that would make good presents for pretty much any woman. I've not picked out any men's gift as they all seem to be pretty much along the same lines but I am going to try and get together an overall men's gift idea guide together possibly with the help of my boyfriend.
I'm quite a fan of Nivea products and my mum always seems to get me either a Nivea or Dove gift set every Christmas. When looking through the boots website I noticed these two and would quite like them as gifts myself so thought I'd share these products. The gift set on the left is Nivea Pampered Skin Ultimate Collection and does retail for £15 however I think that the price is worth it as you do get included Nivea Daily Essentials Gentle Facial Cleansing Wipes (20 pack), Rich Moisturising Day Cream SPF 15 (50ml), Nivea Aqua Effect Nourishing Honey Mask (2 packs of 75ml), Nivea Pearly Shine Lip, Nivea Irresistibly Smooth Body Lotion (75ml), Nivea Express Hydration Hand Lotion (100ml) and Nivea Soft Moisturising Cream (200ml). The set on the right is Nivea Silky Smooth Skin and is a lot cheaper at just £6 so if you are on a budget this one may be a bit more up your alley. For £6 this set includes Nivea Irresistibly Smooth Body Lotion (75ml), Nivea Smooth Nourishing Hand Cream (100ml) and Nivea Lip Butter in Vanilla & Macadamia. Personally I like both of these and think they're both quite a bargain.




As the person you are purchasing the gift for may be more of a Dove fan than Nivea, I've found two gift ideas that would be the alternatives to the Nivea gift sets. First up we've got Dove Wonderful You Gift Set which is available for £15 and includes Silky Nourishment Cream (300ml), Purely Pampering Shea Butter Bar (100g), Silk Glow Nourishing Body Wash (250ml), Silk Care Cream Bath (500ml) and Pampering Nourishing Body Wash - Shea Butter with Warm Vanilla (250ml). This set also includes an eye mask and a shower puff. Up next we have Dove Radiance Duo Gift Set which is £6 and I think I may have had this one last Christmas but it may have been one similar. In this gift set you get a shower puff, Nourishing Body Wash Revive Pomegranate & Lemon Verbena (250ml) and Nourishing Body Wash Burst Nectarine & White Ginger (250ml).
With these gift sets I have given both a budget option and a slightly larger budget which won't break the balance however, below I'm going to show you two gift sets that are probably luxury purchases and a cheaper gift set from the same brands which although they aren't as cheap as £6 are a decent price.
Unfortunately I wasn't able to find pictures of the next two gift sets however I will provide a link to where they can be found on the Boots website. Both of the gift sets are from
No7
with the most expensive one being
No7. The Ultimate Collection
(
http://www.boots.com/en/No7-The-Ultimate-Collection_1375459/
) coming in at £65. Although this is an expensive product I do think it is worth it as there are 8 skin care products, a mascara and a lip gloss and all products seem to be full size as well (if not then they're still a good size). As I've provided this link for this I won't list the products enclosed as it can be found on that page. The bargain gift set I've found from
No7
isn't the cheapest one they've got but it is only £15 and I thought was a lovely little gift for any female relative or friend. This gift set is
No7 The Skincare Collection
(
http://www.boots.com/en/No7-The-Skincare-Collection_1375451/
) and does contain 4 products, a muslin cloth and a headband.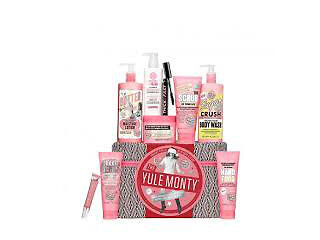 Next up we've got everyone's favourite -
Soap & Glory
and I'm sure you can all guess that the luxury gift set from this company is
The Yule Monty Gift Set
which comes in a £60 however, if Boots do run the offer they did last year then this item may be on sale for a few days at half price. What I like about this gift set is that every year although revamped, it always comes in packaging that the products that could be kept in and can be used again with this years being a toiletry bag, In the gift set you will get
Sugar Crush, The Righteous Butter, Heel Genius, Hand Food, Peaches & Clean, Thick & Fast mascara, The Scrub of your Life, Butter Yourself and Sexy Mother Pucker XL Plumping Gloss
in
Pink Out Loud.
All of these products a full sizes as well.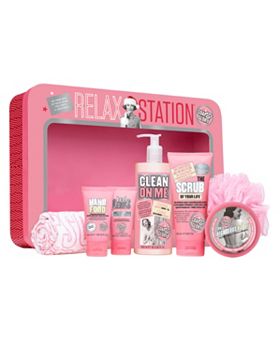 The more bargain product I've chosen from this brand is
Relaxstation Gift Set
coming in at £20. This isn't the cheapest gift set available from
Soap & Glory
however, I think it is a reasonable price for the products that you get. In this set you will get a full size
Clean on Me
and
The Scrub of your Life
along with minis of
Hand Food, Heel Genius
and
The Righteous Butter.
You'll also get a shower puff and hair turban thrown in there.
All the gift sets I have shown you are available on the Boots website and I'm sure the majority of Boots stores will stock these items especially the larger ones and are all available on the 3 for 2 offer which I imagine will run up to Christmas. Half way through writing this post I did realise that all of the gift sets I've included are body and skin care gift sets but I have decided I'll do an overall makeup Christmas gifts in its own post within the next few weeks so I will include any makeup gift sets I find in that.
I am sorry if this is just a rambling nonsense post but I hope it helps some of you if you are stuck on Christmas ideas for your loved ones.
Thanks for reading guys.
Love
Lou xx